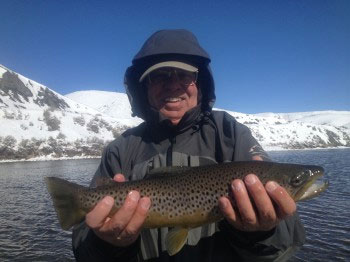 Trout fishing in Casper Wyoming Feb 2013
This is your fishing guides report for Trout fishing in Casper Wyoming. The in town sections of the North Platte River near Casper Wy still have a lot of floating ice but we are fishing the upper 8 miles of the Grey Reef regularly. This section is roughly 30 miles south of Casper and flows North through Casper.
Today I had the pleasure of taking my friend Steve Douglas fly fishing. The fishing was fantastic, and the weather wasn't bad. (no wind) He quit counting after 10, but estimates catching over 30 Trout. Another one of our fishing guides Andy Bruste reported counting over 50 Trout also with a single guest. We are not big fish counters. The sole purpose for stating numbers on this report is to give you a real idea of how well the Trout fishing in Casper Wyoming is this time of year, because everyone says their fishing is good.
The natural leech and egg patterns worked very well until about noon. After lunch we had a midge hatch and caught many of our fish on a size 20 midge.
Luke Keil/ Casper Wyoming Fly Fishing Guide
If you ever have any questions about Trout Fishing in Casper Wy, or fishing near Casper Wyoming, feel free to contact us! We will never put pressure on you to purchase from us. You don't have to buy from us to get the friendly service you ALWAYS deserve! We are here to serve YOU with excellence! 307.267.0170 / [email protected]